Actinomeris alternifolia
This is a common wildflower in Illinois and is easily identified by its winged stem.
---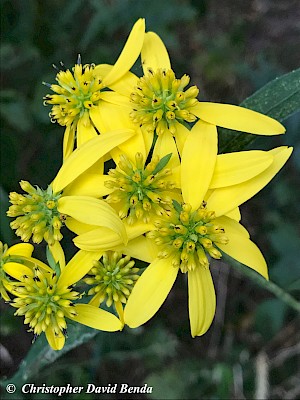 Scientific Name:
Actinomeris alternifolia
Synonym:
Verbesina alternifolia
Family:
Asteraceae
Common Name:
Yellow Wingstem
Authority:
Linneaus
Etymology:
Actinomeris meaning unknown, alternifolia = alternate leaved
C Value:
4
Wetness:
FACW
# of Species in
Genus in Illinois:
2
Duration:
Perennial
Reproduction:
Monoecious
Flower Type:
Perfect
Growth Habit:
Forb
Leaf Arrangement:
Alternate
Leaf Type:
Simple
Leaf Margin:
Toothed
Leaf Toothing:
Flower Color:
Yellow
Habitat:
forests
Distribution:
BONAP Distribution Map
Status (State):
Not Listed
Status (Federal):
Not Listed
ID Tips:
The winged stem is a big clue for identifying this species. This species can sometimes have opposite leaves.
Gee Whiz:
The specific epithet means "alternate leaves" yet this species can sometimes have opposite leaves.