Commelina erecta
---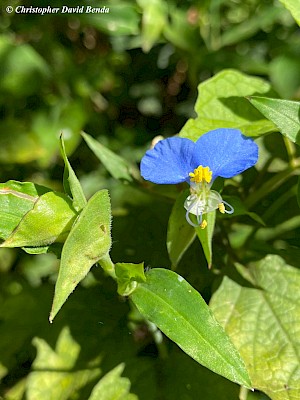 Scientific Name:
Commelina erecta
Synonym:
Family:
Commelinaceae
Common Name:
Day-flower
Authority:
Linnaeus
Etymology:
Commelina in named in honor of the Commelin brothers and erecta is Latin for "upright."
C Value:
5
Wetness:
UPL
# of Species in
Genus in Illinois:
4
Duration:
Perennial
Reproduction:
Monoecious
Flower Type:
Perfect
Flower Shape:
Zygomorphic (bilaterally symmetrical)
Flower # of Parts:
3
Growth Habit:
Forb
Leaf Arrangement:
Alternate
Leaf Type:
Simple
Leaf Shape:
Oval (widest at middle)
Leaf Shape Term:
Leaf Margin:
Entire
Leaf Toothing:
Flower Color:
White, Blue
Habitat:
Wetland, Forest, Roadside
Distribution:
BONAP Distribution Map
Status (State):
Not Listed
Status (Federal):
Not Listed
ID Tips:
Part of the spathe is fused and the lowest petal is white and not blue.
Gee Whiz:
This genus is named after the 3 Commelin brothers, all 3 accomplished in botany, but one died early in life, hence the small white petal.
Humor:

There is a song about this plant by Boy George, "comma comma comma Commelina, you come and go, you come and go..."