Gleditsia triacanthos
---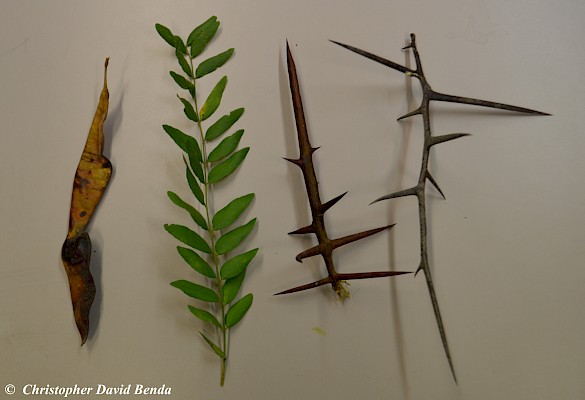 Scientific Name:
Gleditsia triacanthos
Synonym:
Family:
Fabaceae
Common Name:
Honey Locust
Authority:
Linnaeus
Etymology:
Gleditsia = Johann Gottlieb Gleditsch, triacanthos = three-spined
C Value:
2
Wetness:
FAC
# of Species in
Genus in Illinois:
2
Duration:
Perennial
Reproduction:
Monoecious
Flower Type:
Imperfect
Growth Habit:
Woody
Leaf Arrangement:
Alternate
Leaf Type:
Pinnate Compound
Leaf Margin:
Entire
Leaf Toothing:
Entire
Flower Color:
Yellow
Habitat:
Floodplains and open spaces
Distribution:
BONAP Distribution Map
Status (State):
Not Listed
Status (Federal):
Not Listed
ID Tips:
Simple and brached thorns roughly 8 inches long surrounding the base of the tree. Not to be confused with the shorter thorns of Robinia pseudoacacia, Black locust.
Gee Whiz:
Believed to contain a precursor bacterial symbiont which later developed into nitrogen fixing nodules.