Leucospora multifida
---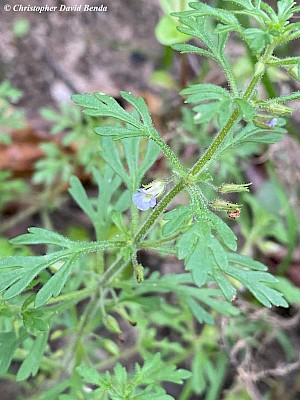 Scientific Name:
Leucospora multifida
Synonym:
Conobea multifida
Family:
Plantaginaceae
Common Name:
Obe-Wan-Conobea
Authority:
(Michx.) Nutt.
Etymology:
Leucospora is Greek for "white-seeded" and multifida is Greek for "cleft many times."
C Value:
3
Wetness:
FACW+
# of Species in
Genus in Illinois:
1
Duration:
Annual
Reproduction:
Monoecious
Flower Type:
Perfect
Flower Shape:
Zygomorphic (bilaterally symmetrical)
Flower # of Parts:
5
Growth Habit:
Forb
Leaf Arrangement:
Opposite
Leaf Type:
Simple
Leaf Shape:
Oval (widest at middle)
Leaf Shape Term:
Leaf Margin:
Entire
Leaf Toothing:
Flower Color:
White, Purple, Blue
Habitat:
Roadside
Distribution:
BONAP Distribution Map
Status (State):
Not Listed
Status (Federal):
Not Listed
ID Tips:
Gee Whiz:
An interesting account of this species' common name can be found in the Flora of the Chicago Region (Wilhelma and Rericha 2017).
Humor:

See Gee Whiz info.