Phegopteris hexagonoptera
Phegopteris = Greek for oak fern
hexagonoptera = six-winged
---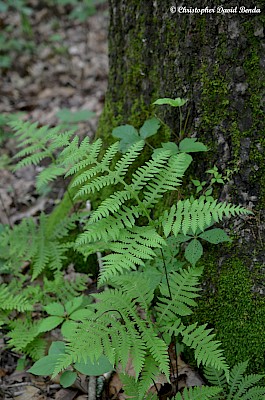 Synonym:
Dryopteris hexagonoptera
Family:
Thelypteridaceae
Common Name:
Broad Beech Fern
Authority:
(Michx.) Fee.
Etymology:
C Value:
7
Wetness:
FAC-
# of Species in
Genus in Illinois:
1
Duration:
Perennial
Reproduction:
N/A
Flower Type:
Growth Habit:
Fern
Leaf Arrangement:
Basal
Leaf Type:
Pinnate Compound
Leaf Margin:
Toothed
Leaf Toothing:
Toothed
Flower Color:
Habitat:
upland woodlands, wooded slopes, and wooded bluffs
Status (State):
Not Listed
Status (Federal):
Not Listed
ID Tips:
lowest leaflets point inward
Gee Whiz:
Fun name to say! Look for orchids when you find this fern.