Pycnanthemum tenuifolium
Pycnanthemum = densely-flowered 
tenuifolium = slender leaves
---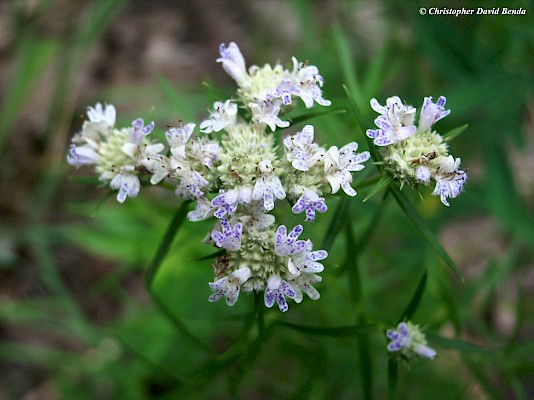 Synonym:
Family:
Lamiaceae
Common Name:
Slender Mountain Mint
Authority:
Schrad.
Etymology:
C Value:
4
Wetness:
FAC
# of Species in
Genus in Illinois:
9
Duration:
Perennial
Reproduction:
Monoecious
Flower Type:
Perfect
Growth Habit:
Forb
Leaf Arrangement:
Opposite
Leaf Type:
Simple
Leaf Margin:
Entire
Leaf Toothing:
Entire
Flower Color:
White
Habitat:
Dry black soils prairies, moist meadows, gravelly areas, woodlands.
Status (State):
Not Listed
Status (Federal):
Not Listed
ID Tips:
1-3' tall branching frequently to create a bushy effect, stems hairless, each leaf is sessile, linear and hairless.
Gee Whiz:
This is the least scented species of Pycnanthemum, but it still has a pleasant minty fragrance.