Quercus stellata
---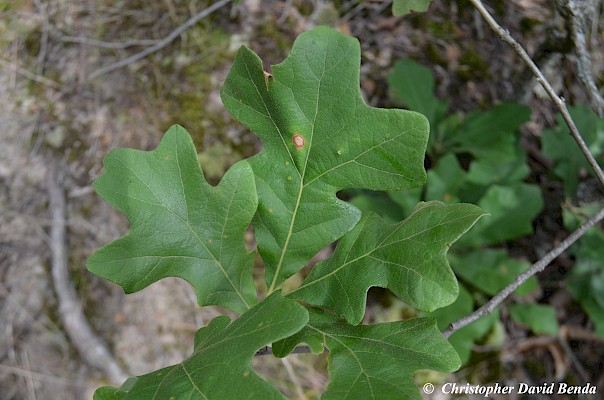 Scientific Name:
Quercus stellata
Synonym:
Family:
Fagaceae
Common Name:
Post Oak
Authority:
Wangenh.
Etymology:
Quercus = Latin for "oak" and stellata = Latin for "star-like"
C Value:
5
Wetness:
FACU-
# of Species in
Genus in Illinois:
21
Duration:
Perennial
Reproduction:
Monoecious
Flower Type:
Imperfect
Growth Habit:
Woody
Leaf Arrangement:
Alternate
Leaf Type:
Simple
Leaf Margin:
Lobed
Leaf Toothing:
Entire
Flower Color:
Inconspicuous
Habitat:
upland forests
Status (State):
Not Listed
Status (Federal):
Not Listed
ID Tips:
The lobes of this species are cruciform in appearance. Stellate hairs are present on the leaf as well. Bristle tips are absent.
Gee Whiz:
Lower value wood than other white oaks, used for fencing.