Ratibida pinnata
---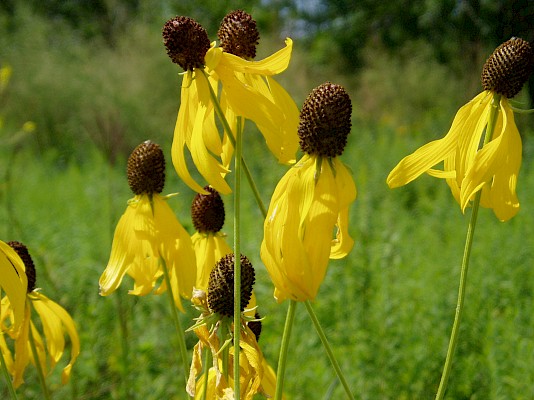 Scientific Name:
Ratibida pinnata
Synonym:
Family:
Asteraceae
Common Name:
Gray-headed Coneflower
Authority:
(Vent.) Barnh.
Etymology:
Ratibida = derivation obscure and pinnata = pinnately compound leaves
C Value:
4
Wetness:
UPL
# of Species in
Genus in Illinois:
2
Duration:
Perennial
Reproduction:
Monoecious
Flower Type:
Perfect
Growth Habit:
Forb
Leaf Arrangement:
Alternate
Leaf Type:
Pinnate Compound
Leaf Margin:
Toothed
Leaf Toothing:
Smooth or sparsely dentate
Flower Color:
Yellow
Habitat:
Prairies and Limestone Glades
Distribution:
BONAP Distribution Map
Status (State):
Not Listed
Status (Federal):
Not Listed
ID Tips:
Composite flower with leaves that are irregularly shaped and variable. Texture of these leaves are rough as a result of tiny stiff hairs and bumps.
Gee Whiz:
This plant is called gray-headed coneflower because the cone of disk flowers is grayish-brown. The root was once used to cure toothaches. Used as snuff by Native Americans.