Symphyotrichum pilosum
---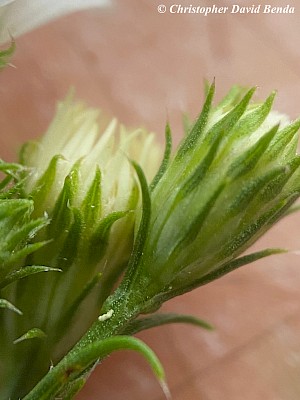 Scientific Name:
Symphyotrichum pilosum
Synonym:
Aster pilosus
Family:
Asteraceae
Common Name:
Hairy White Aster
Authority:
(Willd.) G. L. Nesom
Etymology:
C Value:
0
Wetness:
FACU-
# of Species in
Genus in Illinois:
35
Duration:
Perennial
Reproduction:
Monoecious
Flower Type:
Perfect
Flower Shape:
Actinomorphic (radially symmetrical)
Flower # of Parts:
6
Growth Habit:
Forb
Leaf Arrangement:
Alternate
Leaf Type:
Simple
Leaf Shape:
Oval (widest at middle)
Leaf Shape Term:
Leaf Margin:
Entire
Leaf Toothing:
Flower Color:
White
Habitat:
Prairie, Forest, Roadside, Fields
Distribution:
BONAP Distribution Map
Status (State):
Not Listed
Status (Federal):
Not Listed
ID Tips:
The tips of the phyllaries are curved inward.
Gee Whiz:
Humor:

Pull up your plants, your hairy white aster is showing!